Bicycle Accident Caused by Motor Vehicle Not Providing Bicyclist with Adequate Space (Side-Swipe Accident)
MOTOR VEHICLES HUGGING A BICYCLIST'S LANE OF TRAFFIC CREATES A DANGEROUS CONDITION WHICH CAN HAVE CATASTROPHIC CONSEQUENCES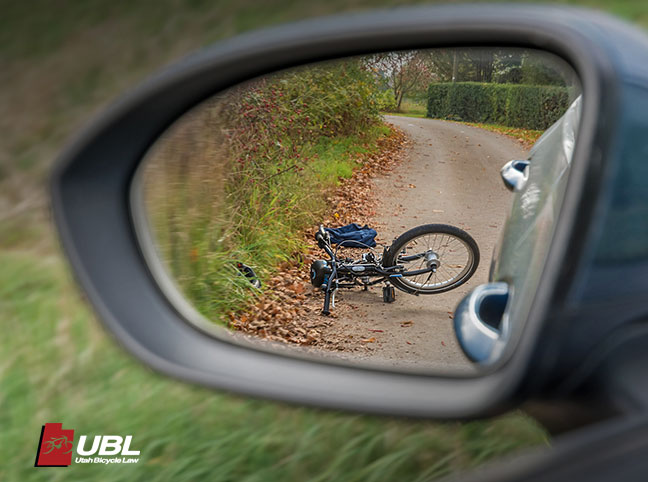 As a bicyclist, the law generally requires you to ride your bicycle as close to the right-hand edge of the roadway as possible. The exception to this general rule is if you are overtaking a pedestrian or another cyclist, avoiding an obstacle in the roadway, or the road is too narrow for your bicycle and a vehicle to travel safely side by side. Whether you are riding close to the right-hand edge of the roadway, overtaking someone or something, or traveling along a narrow road, it is all too common for motor vehicles to not provide a cyclist with adequate room, resulting in the cyclist being side-swiped by the vehicles side mirror, over-sized trailer, or some other portion of the vehicle extending into the cyclist's lane of traffic.
When the width of a vehicle is dangerously extended or a vehicle is just too close to the cyclist's lane of traffic, the chances of a cyclist being side-swiped by a vehicle increases despite the cyclist lawfully traveling down the road.
Salt Lake City, Utah Trusted Bicycle Accident Law Firm

If you or someone you care for has been injured or killed by a side-swipe bicycle accident while riding a bicycle, you probably have important questions that need answering. You can receive answers to your questions by calling our bicycle accident attorneys at (801) 869-6800 or by leaving a message for us by completing the contact form. Our experienced bicycling accident lawyers are based in the heart of Salt Lake City and handle bicycling accidents throughout the State of Utah.
Our attorneys work on a contingency fee basis, meaning you will not pay a dime unless they get money for you.
Contact A Trusted Bicycle Accident Attorney
Call us at (801) 869-6800