Bicycle Accident Caused by Opening Vehicle Door ("Doored")
Motorists Subject Cyclists To Risks Even When Their Motor Vehicles Are No Longer Moving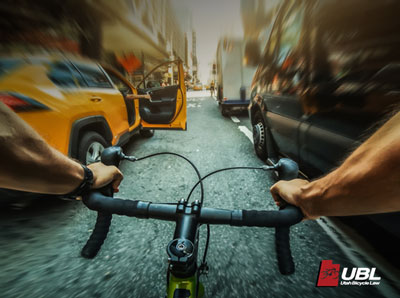 Whether you are an experienced cyclist or someone who simply rides a bicycle for fun or as a mode of transportation, you have probably ridden your bicycle along a roadway where motorists pull-over or park their vehicles to the right of where you're riding your bicycle. Unfortunately, it is not uncommon for motorists and their passengers to suddenly fling their doors open without looking for oncoming bicyclists. When this occurs, cyclists often don't have time to avoid the collision with the opened door, resulting in the cyclist being flung into or over the open door, or even possibly through its window.
If you or someone you care for has been injured or killed by being "doored", you probably have important questions that need answering. You can receive answers to your questions by calling our bicycle accident attorneys at (801) 869-6800 or by leaving a message for us by completing the contact form. Our experienced bicycling accident lawyers are based in the heart of Salt Lake City and handle bicycling accidents throughout the State of Utah.
Trusted Bicycle Accident Attorneys in Utah
Our attorneys work on a contingency fee basis, meaning you will not pay a dime unless they get money for you and your bicycle accident case.
Contact A Trusted Bicycle Accident Attorney
Call us at (801) 869-6800