Distracted Drivers Are the Greatest Danger to Cyclists

According to the Utah Department of Public Safety, distracted drivers are the leading cause of bicycle accidents in the State of Utah (41.42% of all accidents over the past five years (2015-2020) occurred because the driver failed to yield to a bicyclist who had the right of way). Due to the popularity and accessibility to smart phones, distracted driving is no longer limited to talking on the phone, eating, reading, grooming, adjusting the radio, helping or interacting with a child in the back seat, or even talking to a fellow passenger.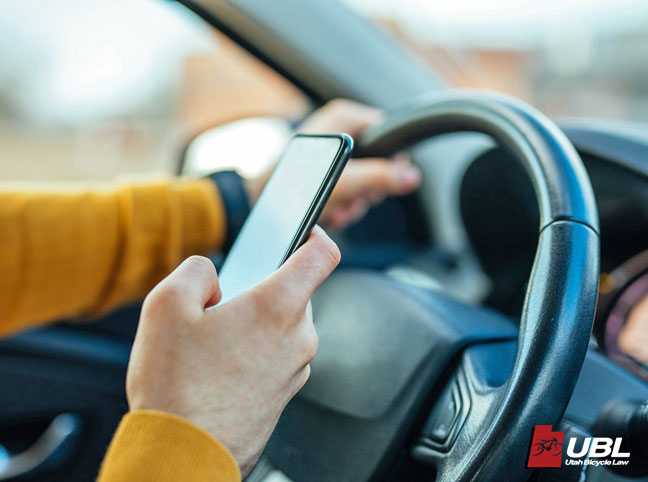 In today's technological driven world and as a result of societies' impulse to receive information as soon as it becomes available, distracted driving has been significantly compounded by:
Reading emails
Web surfing
Texting
Tweeting
Face Timing
Posting to social media.
As bikes are significantly smaller than motor vehicles, it is not difficult for a distracted driver to fail to notice a bicyclist – especially when the driver is not paying attention to his or her surroundings.
The scenario of a motor vehicle failing to see and yield to a bicyclist because the driver is distracted occurs all too often on Utah's roadways (approximately 200 accidents per year are caused by a motorist hitting a bicycle while the cyclist is traveling straight with the flow of traffic). These accidents often result in serious injuries which may include concussions, traumatic brain injuries, fractured or broken bones, punctured or ruptured organs, contusions, and severe road rash. Associated with these injuries is pain and suffering, piling up expenses and medical bills, emotional difficulties stemming from a loss of enjoyment of life as the sustained injuries often times prevents the bicyclist from participating in activities he or she is used to doing, and possible lost wages.
A Trusted Bicycle Accident Law Firm Here For You

If you or someone you care for has been hit and injured or killed by a distracted driver while riding a bike, you probably have important questions that need answering. The most common questions after an accident pertain to:
How to interact with the driver's insurance company
How to handle the medical bills and everyday living expenses that are likely pilling up while simultaneously having a decrease in income,
How to navigate the entire claim process
This is an overwhelming and daunting task to take on by yourself and without legal representation. Fortunately, you can receive answers to your questions and the experienced representation you need by calling our bicycle accident law firm at (801) 869-6800 or by leaving a message for any of our bicycle accident lawyers by completing the required fields to the right.
Our experienced bicycling accident lawyers are based in the heart of Salt Lake City, have handled bicycle accidents throughout the State of Utah, and are here to help you navigate every aspect of your claim, from the initial stages of working with medical providers, negotiating with insurance companies, and obtaining personal injury protection benefits in the form of medical expenses, lost wages, and household services, to final resolution via settlement or if necessary, trial. Our attorneys work on a contingency fee basis, meaning you will not pay a dime unless they get money for you.
Contact A Trusted Bicycle Accident Attorney
Call us at (801) 869-6800